Thank You for your interest...
In exploring the amazing realms and dimensions of Vocal Resonance
(Please bookmark this page for your future reference.
It is not accessible through the main website. Thank You!)

These techniques will help you to connect viscerally with the blissful life currents. They will also serve to awaken the artist and healer within yourselves. Using the power of breath and overtone singing, you will connect with the river of energy within that is the very Source of Bliss and sublime creativity!
The following techniques are not difficult to learn. All that is required is an openness to explore, with a child-like approach of play. The following lessons are a good starting point. Connecting with the deeper subtleties of vibration and sensations require an ongoing play/exploration of the ecstatically fine vibrations that move through the energetic field of the body/mind/psyche! Above all, have fun with these techniques!
Introduction to using Vocal toning and Overtoning
Download Word file (written instructions)
Learn to Sing Overtones MP3 (audio file)
---
Samples of Overtone Chanting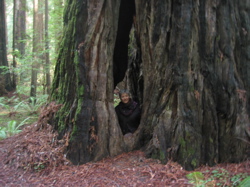 Using the "Grandmother" singing bowl; recorded while in the Redwoods (Avenue of the Giants, Founder's Grove in Northern California). The overtone singing tracks were laid down afterwards. The feelings of being amidst the old growth ancient forest were of joy and reverence. Listen and allow the vibrations of Joy to spread throughout your body. Listen to the song of the Redwoods as can be heard through the overtones!
---
Mantra of Blessing
Om-Ah-Hum
This Mantra, when chanted and/or listened to, purifies (Hum) all negative energies. "Ah" is the all-embracing principle. "Om" increases and magnifies this transformed energy.
---
Also at the Vortex
Track 9 Tibetan Bowls
This recording was also done at the vortex in 29 Palms California. Track 9 uses Tibetan Metal Singing Bowls. The crickets join us half way through.
---
In the Redwoods
Opening the Heart
This recording was done in the Redwoods using a 10" Rose Quartz Singing Bowl with intentions and prayers for opening the heart.
---